ROOF SPORTSWEAR Welcomes You !
Take a look at our updated website.  We currently only have the Volleyball Officiating  Apparel, Supplies, and Gifts.  Our Whistles, Flags, Ball Gauges and Magnet Patch sets can also be used for sports such as Basketball, Soccer and Football.  We are working to make your experience on our website as easy and productive as possible.  ROOF SPORTSWEAR is owned and operated by National Volleyball Referee Verna Klubnikin.         Your Business is very Appreciated !
                                     ~~~ IMPORTANT NOTES TO OUR CUSTOMERS  ~~~
For Exchanges, Returns, or Questions,  contact us VIA EMAIL at roofsport@aol.com
Check out our new TWO POCKET BAG to take to the court –  now with the NEW Certified Volleyball logo !
We do not currently carry the New Blue or Gray or White Polo but are hoping to have them in the near future.  
For the USA & CIF Season – Existing White Short & Long Sleeve Polos available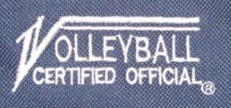 We also have a White Jacket with Fleece Lining  approved by USA & PAVO available in Larger Sizes
We have the Molten Electronic Gauge & Pump back in stock – Order yours NOW !
                                                       We now carry  LANYARDS that match the New Blue Shirt
                                                 Check out the Volleyball Wallet for Scorers – perfect for all your supplies
    ~ Local orders must be placed online and a choice of Pickup or Shipping is available ~
GIFT CERTIFICATES available all year round 
---
We are an "APPROVED" PAVO/USA Vendor for the existing WHITE Certified Polo that Officials are required to wear to Volleyball matches. Please purchase your Polo's ONLY from an approved Vendor. We pay PAVO/USA a 10% royalty on all apparel and accessories that have the CERTIFIED VOLLEYBALL OFFICIAL logo and are required to maintain high quality goods. We are continually striving to give you the best price, best quality, along with the best service.